June 29, 2022 – NeoCon 2022 was full of renewed energy, innovative products, and lots of eye candy. We sat down with Ryan Mayton and Aubrey Giedlin, who attended this year, to get their thoughts.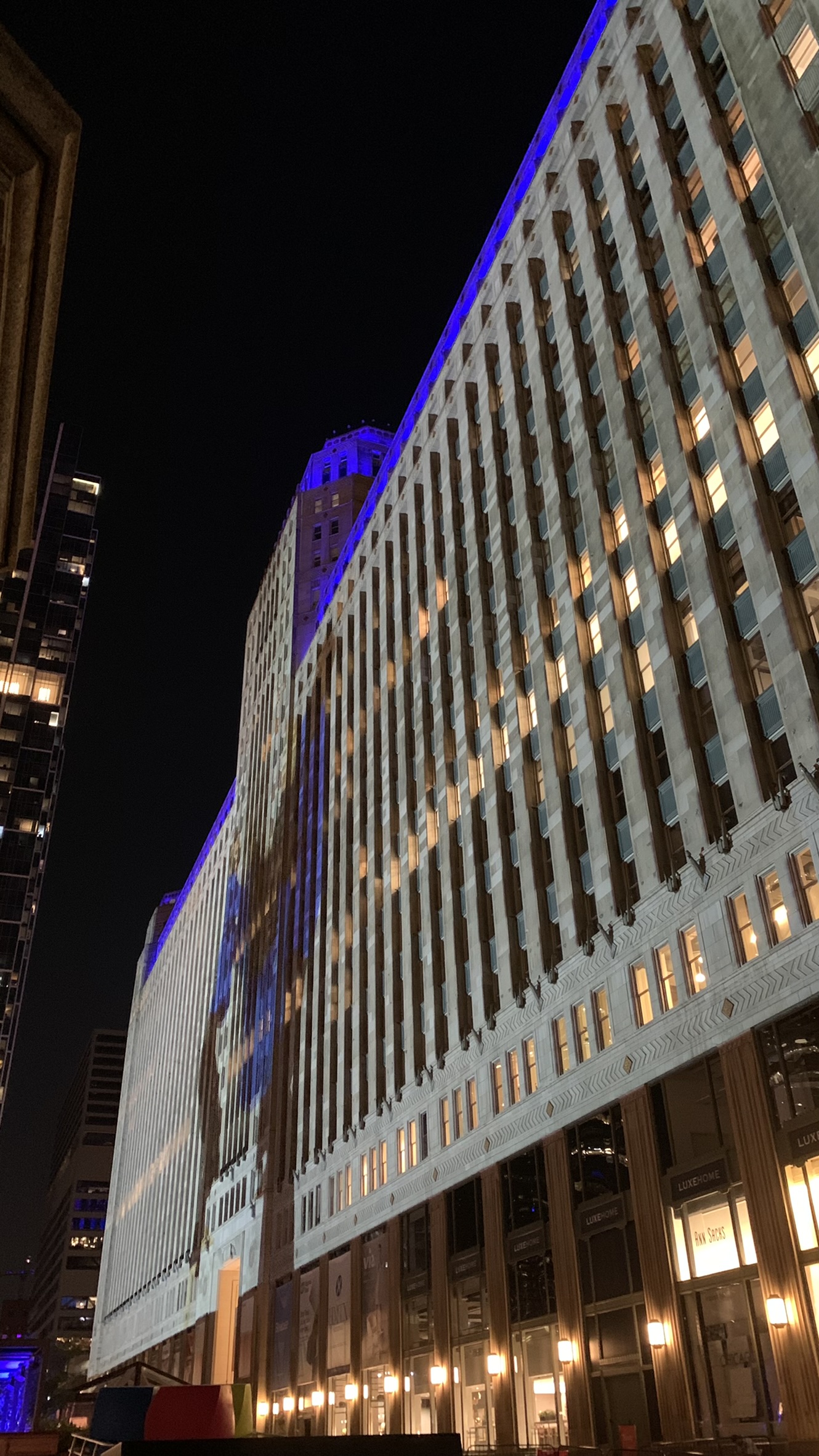 What was the energy like at NeoCon this year?
Ryan Mayton: I would say that this NeoCon experience was pretty close to being "back to normal". I feel like this year had the feeling of a class reunion. I think people were really happy to get back together and celebrate the industry, and see new things. 
I'd imagine people were more social this year.
RM: And there were a lot more people. Last year, by comparison, feels like it was maybe a quarter the amount of people.
Aubrey Giedlin: Yeah, I feel like when I went to NeoCon in October I could get a stylized photo with nobody in the background really easily! This time was much more difficult to make that happen.
With this kind of renewed energy, did you notice any recurring themes throughout the exhibits?
RM: There were definitely several key themes that emerged. Obviously, most of the manufacturers wanted to connect with the idea of hybrid work, and how their products could better support hybrid workers. That's a theme that was woven throughout the event. So whether it was new ideas for creating hybrid spaces in the office, to new ways to support workers in unconventional settings, I definitely noticed some of our partners sneaking at least one or two things into their portfolio this year.
AG: I think some manufacturers that maybe hadn't focused on technology a lot in the past were starting to create a little more buzz around that and partnering with tech companies. 
RM: That's a good point. It seemed like everybody was really trying to attack that small hybrid meeting thing. If we saw one rally bar we saw a thousand rally bars. Steelcase had previously developed their own unique solutions for these sorts of things. Now they've integrated existing technology. For instance they have an amazing hybrid collaboration suite that they had co-developed with Gensler and Microsoft. It very elegantly integrated the technology with their architectural, lighting and furniture solutions. It created a very seamless experience for conversation.
AG: Aesthetically speaking, I think it was pretty similar to what we saw in October. Green was definitely the dominant color. Palette wise, I feel like it was pulled from more natural, earthy themes, playing off of the idea of biophilia with bold pops of color coming through. Overall, it seemed like manufacturers were really trying to celebrate finishes in their natural state, for example: clear coat oak, walnut and ash woods. From a furniture standpoint, organic forms and configurations took precedent over linear or rigid forms that commanded showrooms in the past. 
 RM: Yeah I'm not sure I saw a 90 degree angle anywhere. It feels like almost everything was radiused or softened.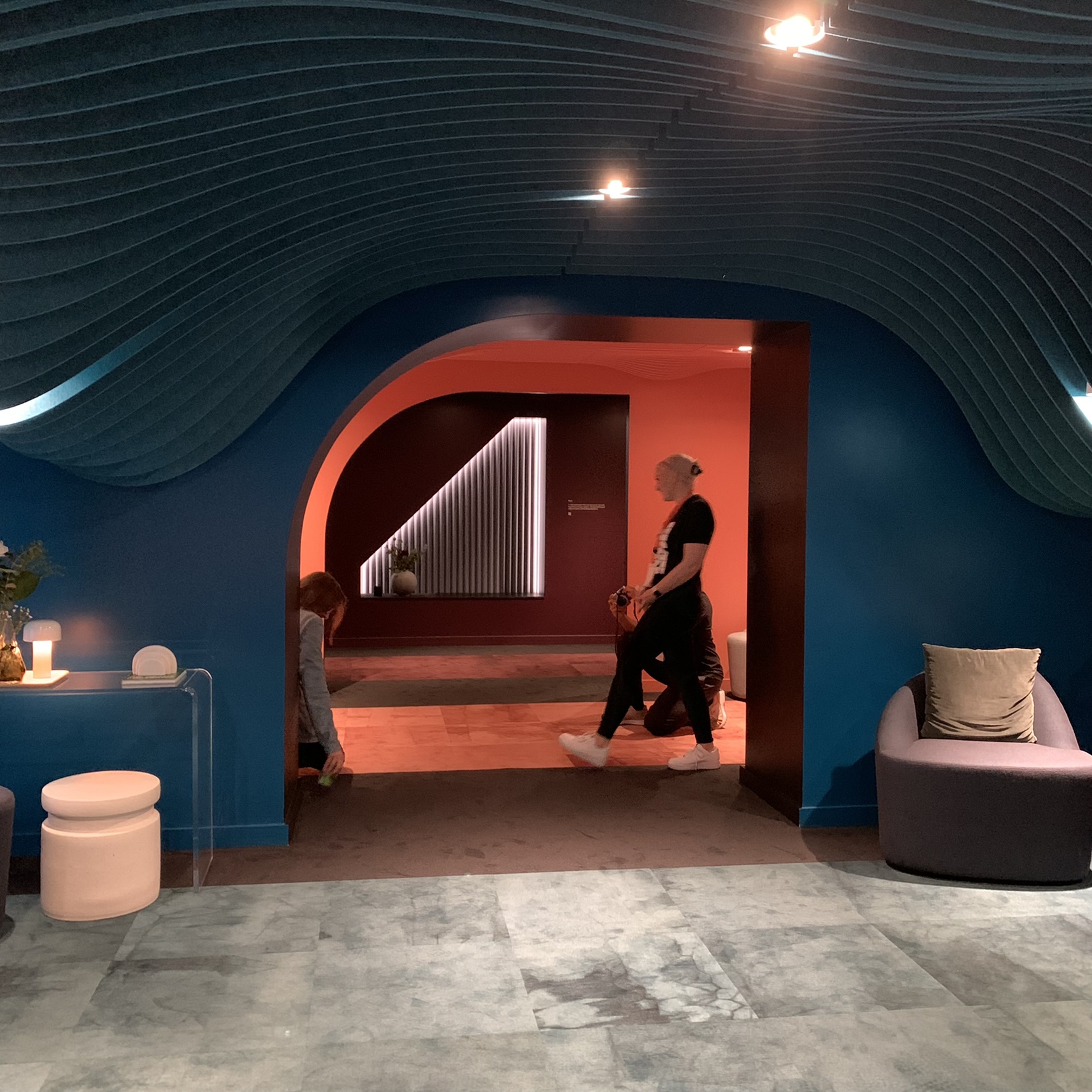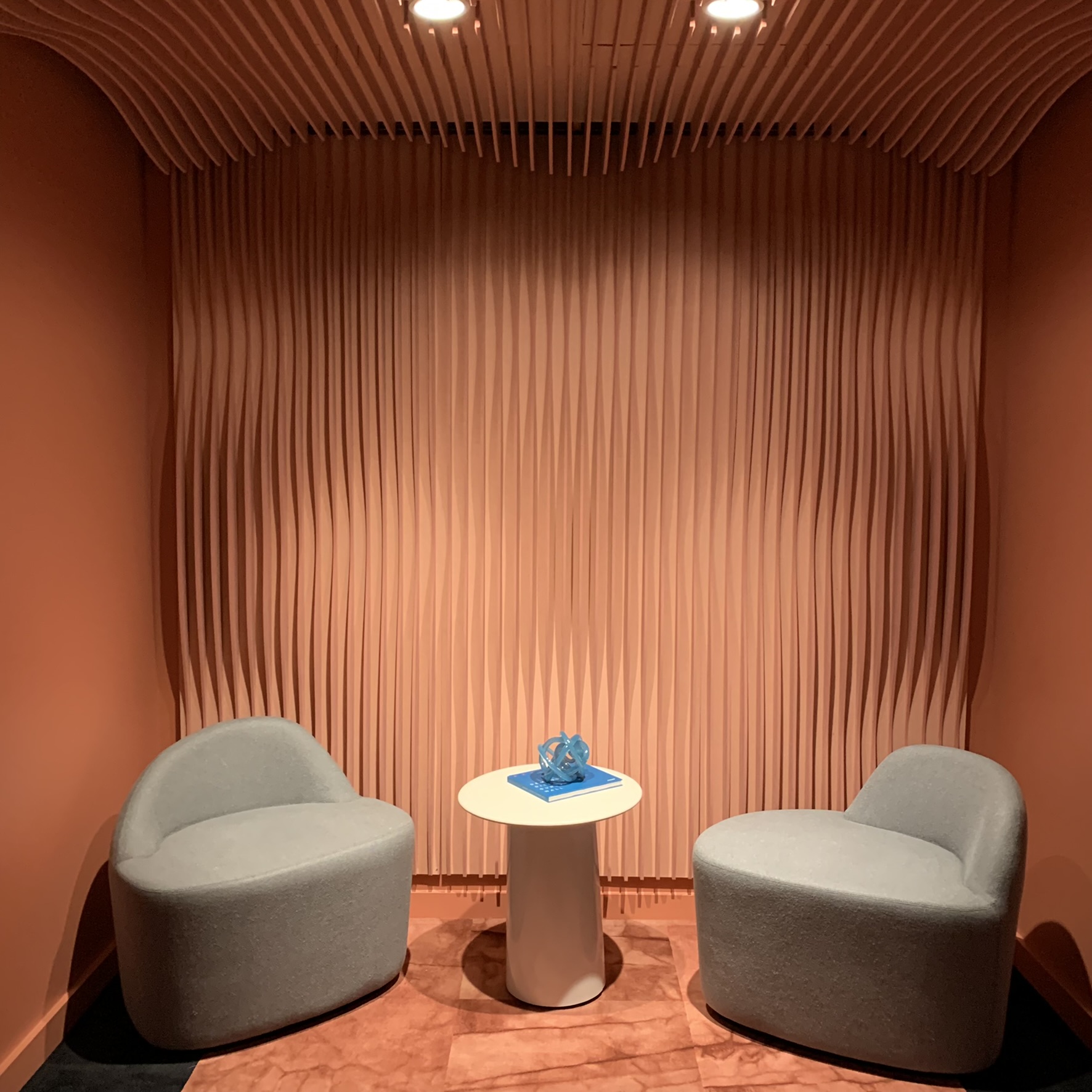 AG: The 120 degree angle felt very prevalent, whether in desking or modular lounge seating. It's nice to see manufacturers leaning into the psychology of design and how these simple modifications to products and applications can positively impact an individual's wellbeing.  
RM: And I think that curved, softened element is drawing off of that residential feeling. Trying to bring elements of comfort and softness into the workplace.
A lot of commercial furniture back in the day would just have a severity to it. Kind of dedicated to a modern look. Which can look nice but sometimes not make people feel super comfy in their surroundings.
RM: I agree. And I feel like this year, the manufacturers did a good job of blending that modern commercial feel with that soft comfort. When things get kind of blobby, especially lounge furniture, it starts to look a little cheap. And I think that balance was well struck. When you would sit in the lounge furniture, it may be softer than what we're accustomed to, but not plush. Not super soft. Still appropriate for work, still supports the postures that we need in the office. 
AG: From a metal standpoint, does anything stand out to you? 
RM: No, nothing stands out to me as being dominant. Going back to what Aubrey said about the wood materials. I feel like there's authenticity in a lot of the materials we saw. Not trying to look like something else. So I feel like that raw, unfinished, oiled, bronzy color was present. I didn't see a lot of chrome- really anything glossy, or sleek, or shiny. Everything felt sort of matte and velvety. 
What is a standout product that everyone's going to be talking about?
RM: I was really excited about the Helm tables from Halcon. We've had Mackinac in our portfolio for a while, as sort of a more elevated height adjustable work surface. But beyond that, it was hard to find something that looked a bit more "executive". This Helm product checks all the boxes. The level of craftsmanship and detail on all Halcon's products was amazing. Aubrey laughed at me because I opened a drawer in a credenza and had a speechless moment.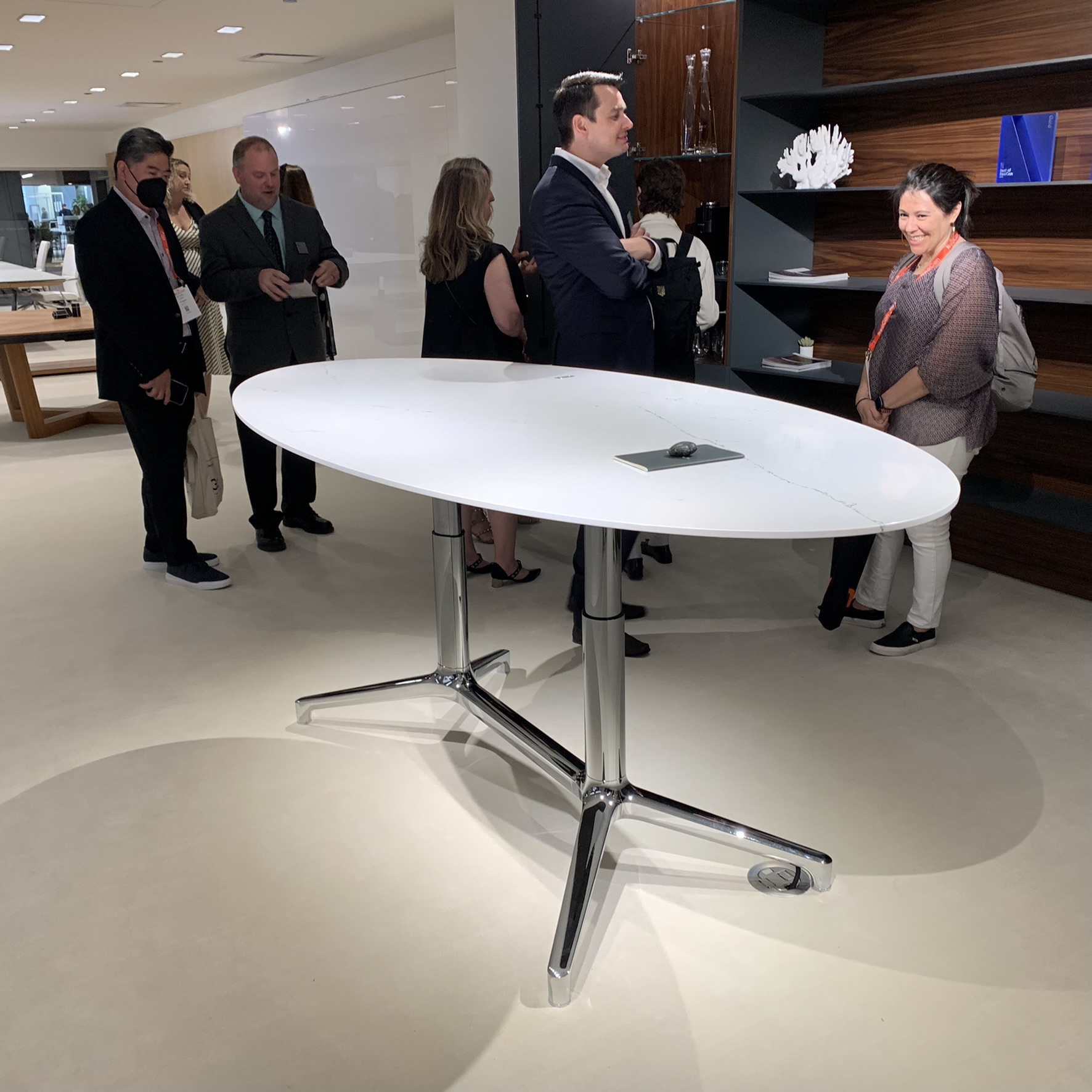 AG: You did! Halcon and Nucraft are probably leaders in craftsmanship and attention to detail. I'm hoping that by having these manufacturers setting the bar, the other manufacturers will raise the ante, and try to find more clever ways to elegantly incorporate power and other needs that workspaces have, paying attention to those little nuances and needless to say clean wire management. I think a lot of brands are more cognizant of showing how a cabling works and doing it in a way that's really well thought out. In the past, you would never show cords or power in the showroom. I'm happy to see how manufacturers are starting to solve for that more now than in the past. 
RM: I think there were a couple other standouts..
AG: Turf was another standout. And what made that successful is that they really dialed into the experience of walking through their space. It really drew you in, in a way that felt seamless and organic. They paid a lot of attention to how color impacts your mood and did an amazing job of incorporating delightful surprises around every bend.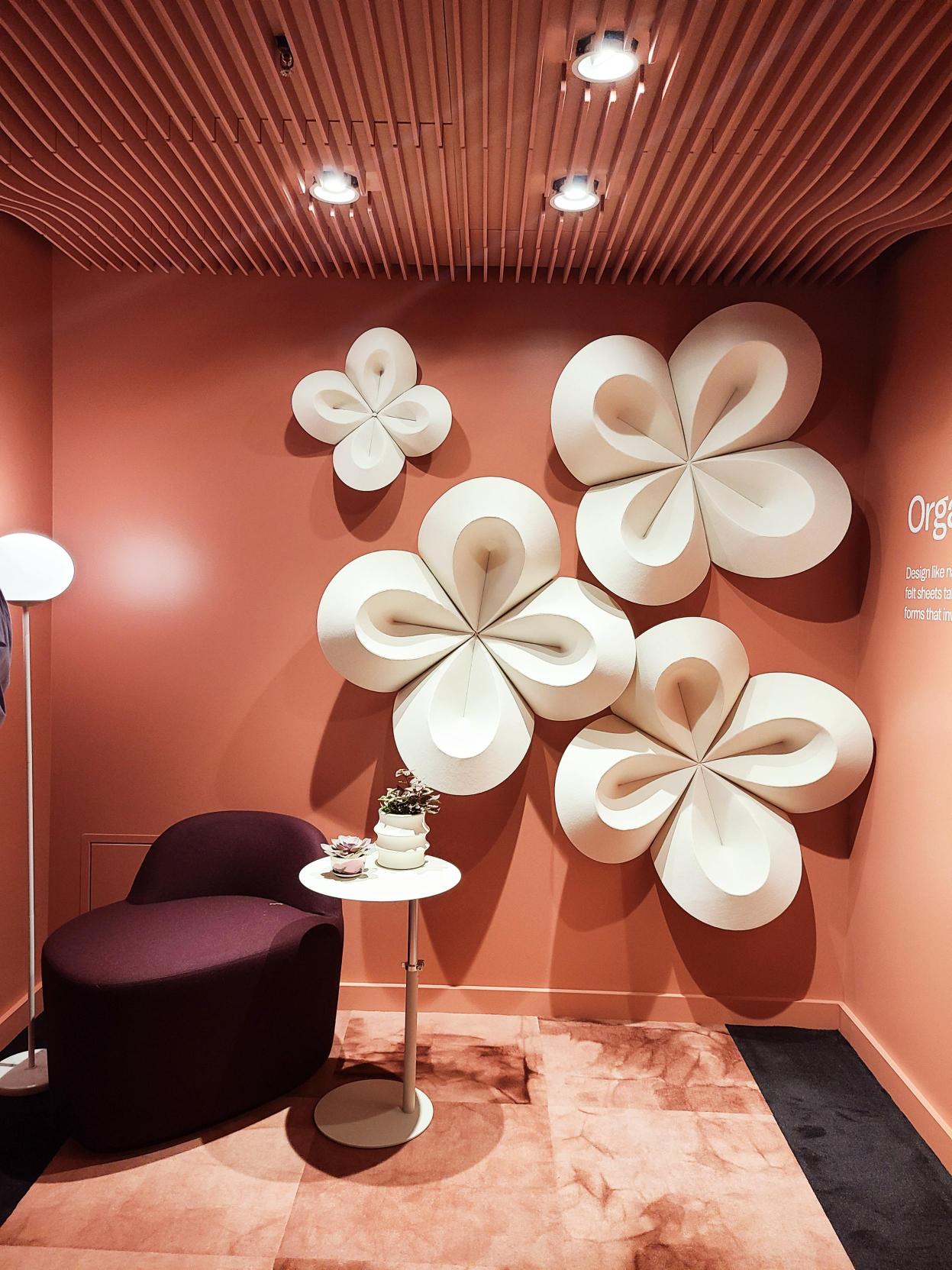 RM: They really understood their audience. In addition to the showroom being a good gallery for all of their solutions, they had an area in the back for people to see how all of their products actually mechanically attach. 
AG: Yes, they also included detailed design drawings for each model which is powerful for designers like me who are painfully visual.  
RM: Yep. I felt like they took the extra step of educating you on how to successfully integrate their products into your solutions as a designer or architect. They really dialed into my design love language. 
AG: Spacestor also had an impressive showing this year!   
RM: Yes! The Arcadia solution. I'm a sucker for any sort of pavilion or folly or other little architectural elements. They really showed the range of applications that could be achieved using that product within a very small footprint in their showroom. From phone booths, to these fun almost-like-caves.
AG: And they had everything modeled out at a small scale in the back of their space. They were actually working with a client to configure a setup that would work for a project they were working on while we toured their showroom. It's always inspiring to see other design professional's wheels turning as they work to solve a client's needs.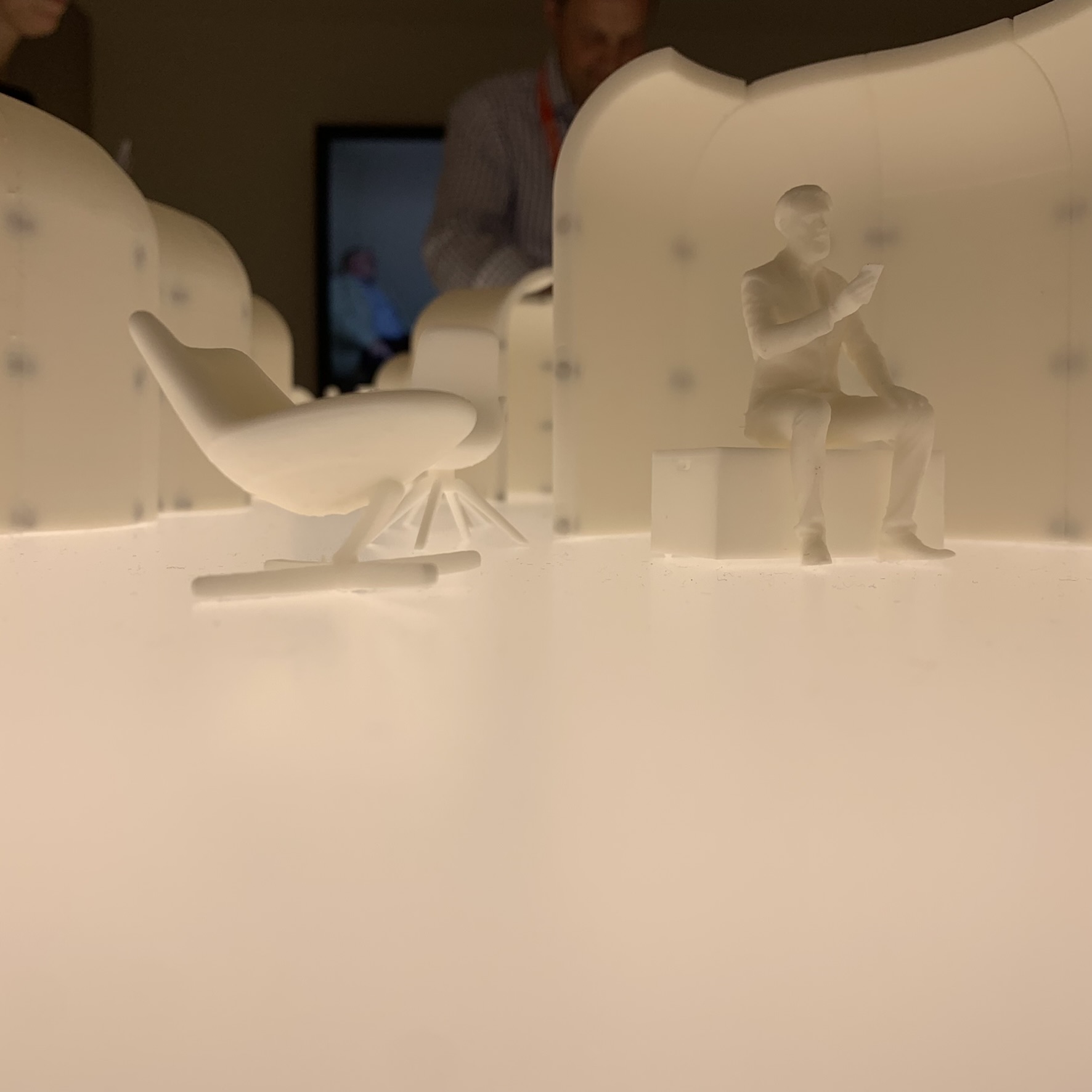 What's something you got from NeoCon that you're excited to bring back to your team and your clients?
RM: I was reminded constantly of the amount of passion, energy, and time that went in. If you think about it collectively- the product designers, the showroom designers, the marketing, all the event preparation- there's this massive amount of creative time and energy that went into the entire show. I'm thinking about how we can take that level of care and passion and bring that back with us. How we can apply it to the work we do for our clients, and take as much care in creating solutions for them as had been taken in NeoCon. That was a big takeaway for me. 
AG: I agree with that. I feel like I always leave trade shows feeling a rekindled sense of passion for our profession. And remembering how lucky we are to be in this field. To be able to experience beauty and creativity. It's such an exciting and uplifting profession. To always be on the brink of innovation…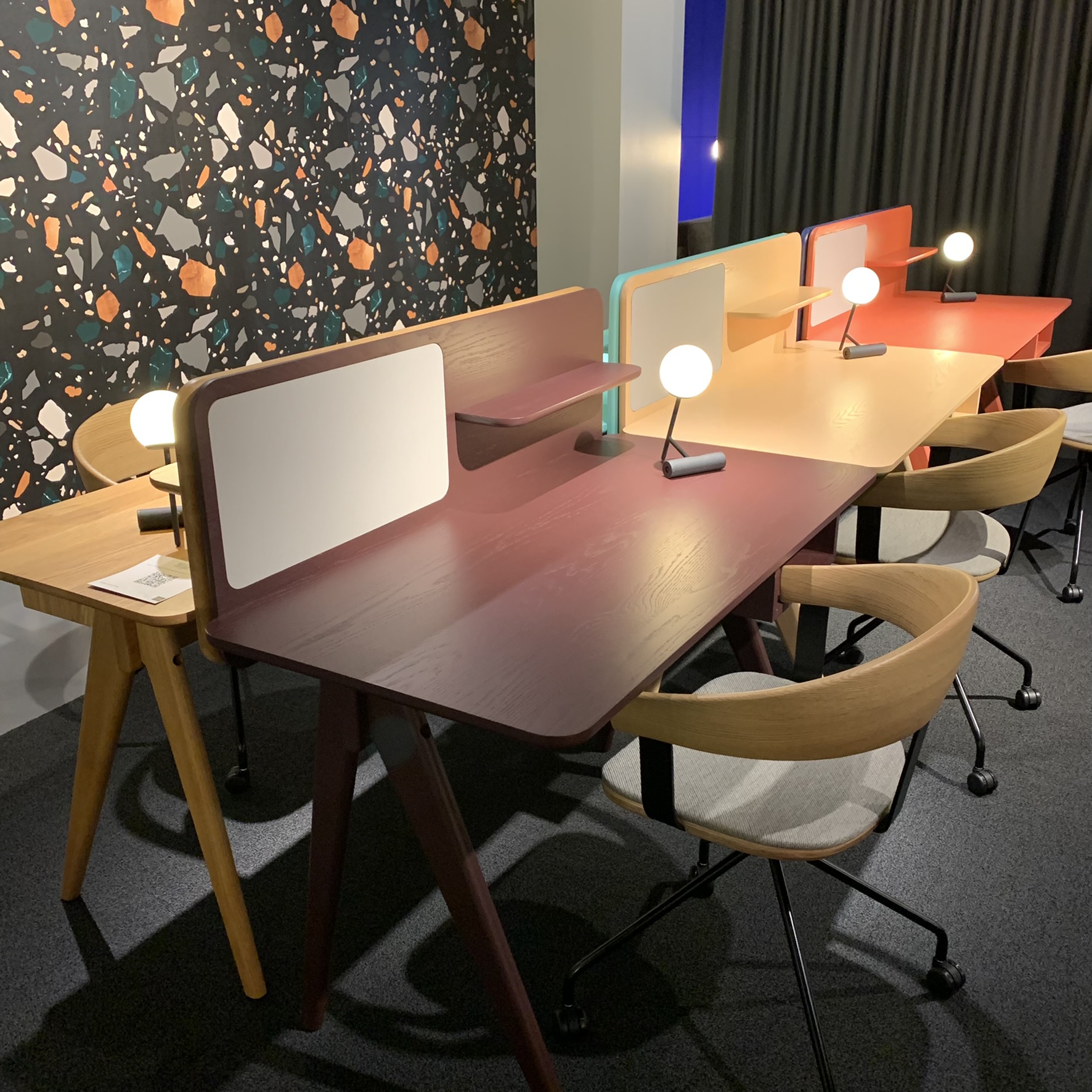 RM: I feel like this NeoCon, I really walked away with that more than "oh my god, a new idea for products". And there have been years where you see something revolutionary and new. And there were definitely things that were noteworthy this year. But I walked away feeling excited for the industry. 
AG: I feel like we're on the brink of something really big too. I don't know if it was the energy or what.
RM: I think because the industry at large is really embracing that work is changing. At this point, I think everyone has acknowledged it and they're trying to figure out what their lane is. And they're all exploring new ideas. But nobody has quite figured it out, and nobody has taken that idea to the next level yet. In the next year or two, I would expect some radical new product development occurring.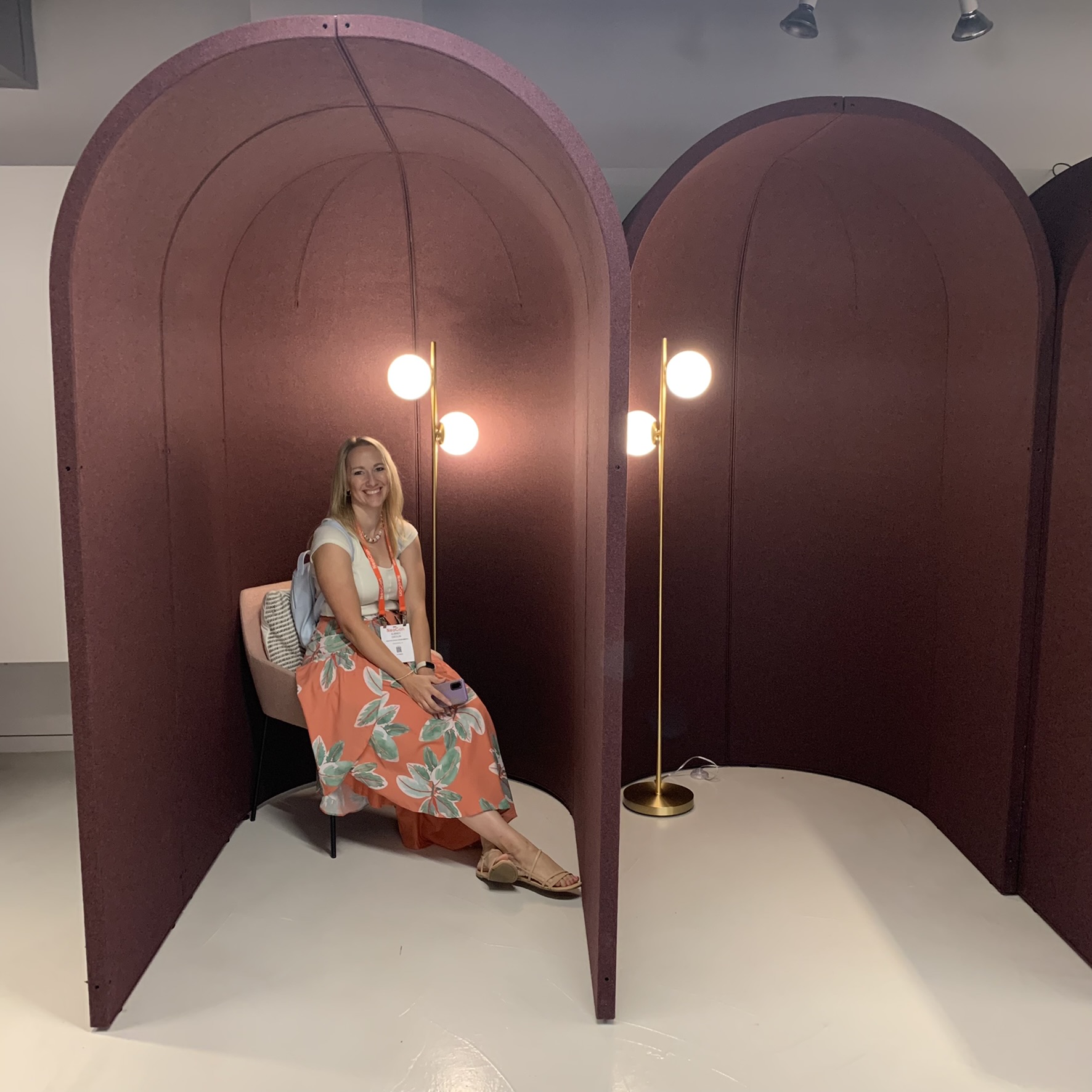 AG: And I think people are piloting and experimenting right now. And they're in the thick of that. So we'll have some time to really dive into that and see what sticks and what doesn't.
RM: I think for the last couple years we've been trying to look around the corner, and we've been afraid of what we're gonna see. It's been a tough time. Now there's excitement about what's around the corner. I'm not sure what that future is going to look like, but I'm pretty sure it's going to be cool. I left NeoCon this year ready to round the corner and see what's next.