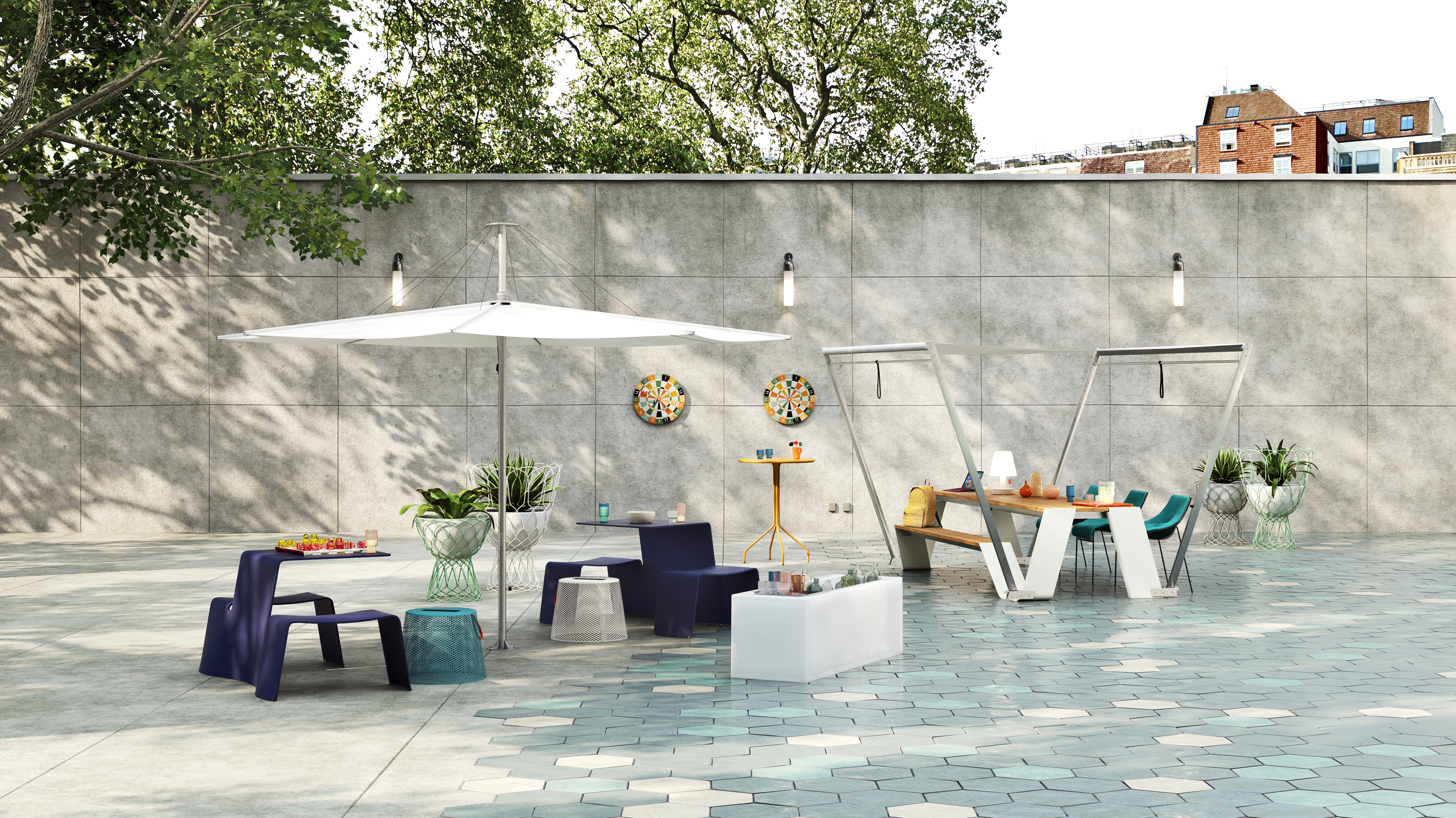 Winter 2021 is finally over. After months and months of cold mornings, dreary afternoons, and stifled social lives, we all deserve a break from the gloom. Spring is the perfect time to spread out, get some fresh air, and enjoy nature. During the warmer months, folks will often use their lunch breaks for outdoor respite, or even wait until early evening to enjoy a beautiful day. But why wait? There are ways to create a dynamic outdoor workspace that is designed for productivity, so you can reap the benefits of the outdoors any time of the day while still staying on task.
With the right plan and appropriate equipment, there's no reason why you can't transform an underutilized outdoor environment into a vital and vibrant extension of your office. And Creative is here to help you plan your space! Here are five things to consider when planning an outdoor workspace for your team.
Be Prepared
When working outside, there are a few environmental factors to prepare for beforehand. First and foremost: sun protection.  Providing adequate shade is essential to prevent glare on screens, sun damage, and overheating. You want to make sure that all active working areas have shading options. You can accomplish this with parasols, trees, awnings, canopies, and even architectural elements.
Consider having power and furniture options that are versatile and easy to transport so that people can move around throughout the day. Flexible seating and surfaces can make things less awkward to move while keeping everybody safely distanced.
Set Some Boundaries
You need an environment where you can hunker down and concentrate, and having inspiring spaces with clearly set boundaries are essential. Half walls, trees, and even sculptures are excellent ways to break up space and add to the inviting atmosphere. Combine outdoor rugs, ottomans, and planters to fill out a space and make it feel homier. Consider how each of these spatial elements will contribute to navigation and wayfinding. Will folks have to walk through an active collaboration area just to get to their desk? Does the layout support safe social distancing?
These challenges are not always easy to resolve, but our design team is here to find a solution you'll love
Prioritize Connection
An outdoor workspace wouldn't amount to much if it didn't support the human connections we come to the office for in the first place. It would also pose a challenge if the space felt less like an extension of the office and more like a "look don't touch" environment. An outdoor office is only as effective as the teamwork, ideas, and spontaneity it inspires.
So how do you establish that connection in such an unfamiliar type of work space? Make the newness feel familiar by including things people already know how to use. Incorporating lounge spaces, bar tops, and even an outdoor kitchen can indicate the possibilities of a space and present areas for impromptu conversation and brainstorming.
Fill Your Space with Choices
The ideal outdoor workspace is a versatile and adaptable area that can suit many types of workers. You don't just want to stick a lawn chair outside and call it a day. Lounge seating with lightweight shared surfaces, high top tables with stools, and work surfaces with traditional desk chairs will be able to suit your team's shifting needs while keeping their postures in mind.
Filling out a space with ottomans and pillows will also give your team the freedom to customize their experience. And remember to provide a flexible power solution, like Flex Mobile Power, to make your outdoor space reach it's full potential.
Make it Last
Sure, having an outdoor space is great for a few months, but do we really have to pack it all in once Autumn hits? Not at all! Add longevity to an outdoor workspace with heaters and fireplaces to keep things cozy, even as the temperature gets lower. There are even smokeless fire pits that provide plenty of heat without making you smell like a barbeque.
Remember: Outdoor workspaces can also function as team meeting spaces, break areas, or even entertainment space. Maybe working outside on a chilly morning isn't ideal, but having a 15 minute team meeting on a brisk autumn day could be refreshing! Shuffling around the functionality of your outdoor workspace as the seasons pass will help you take advantage of it more days out of the year!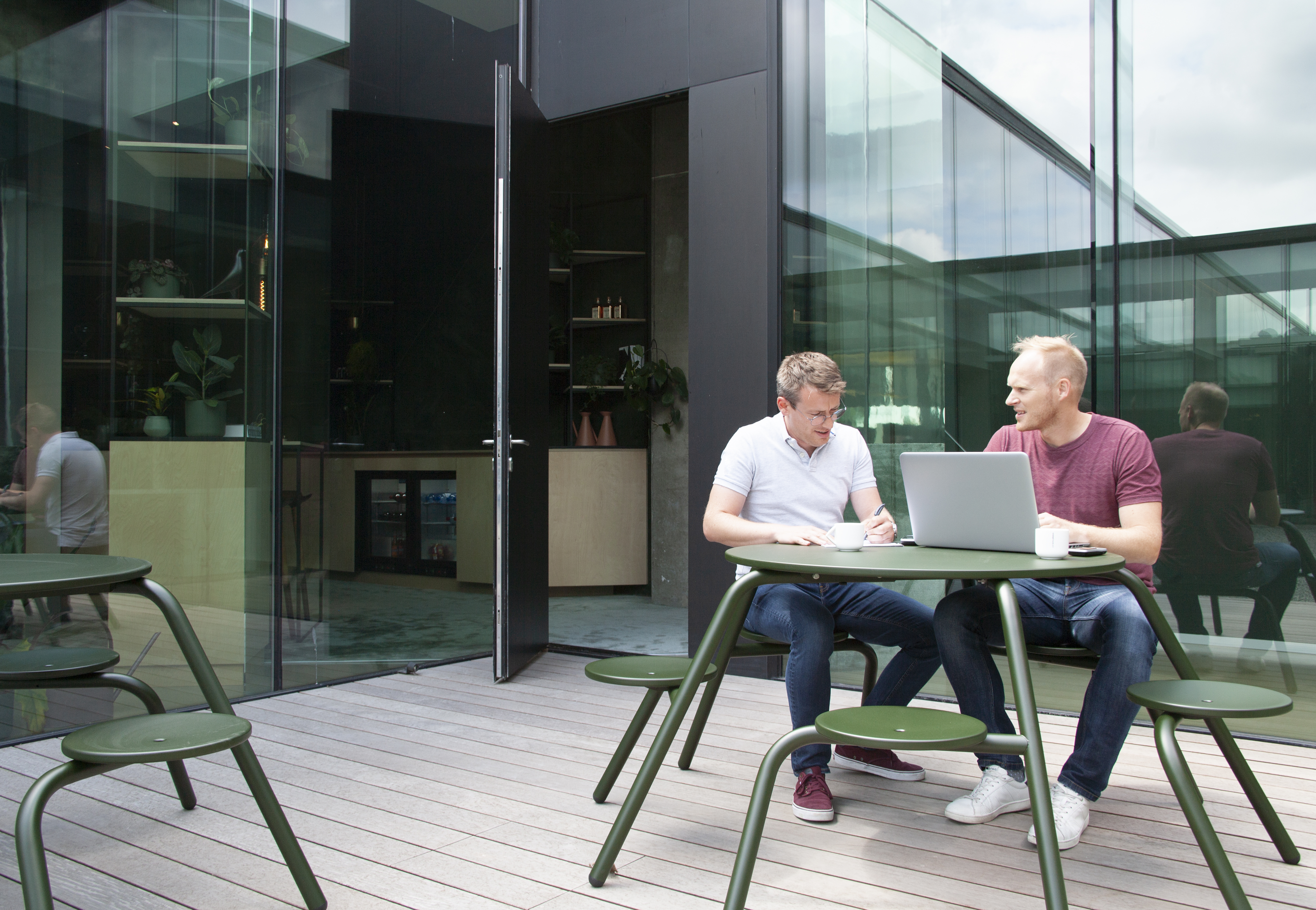 Every outdoor space has the potential to be an inspiring extension of your office: patios, rooftops, even a patch of grass! The goal of an outdoor workspace is to bring connection, inspiration, and respite to a team, and Creative is here to make that a reality. Contact us today, let's brainstorm!  Intrigued?  Check out more information on out outdoor space offerings here.