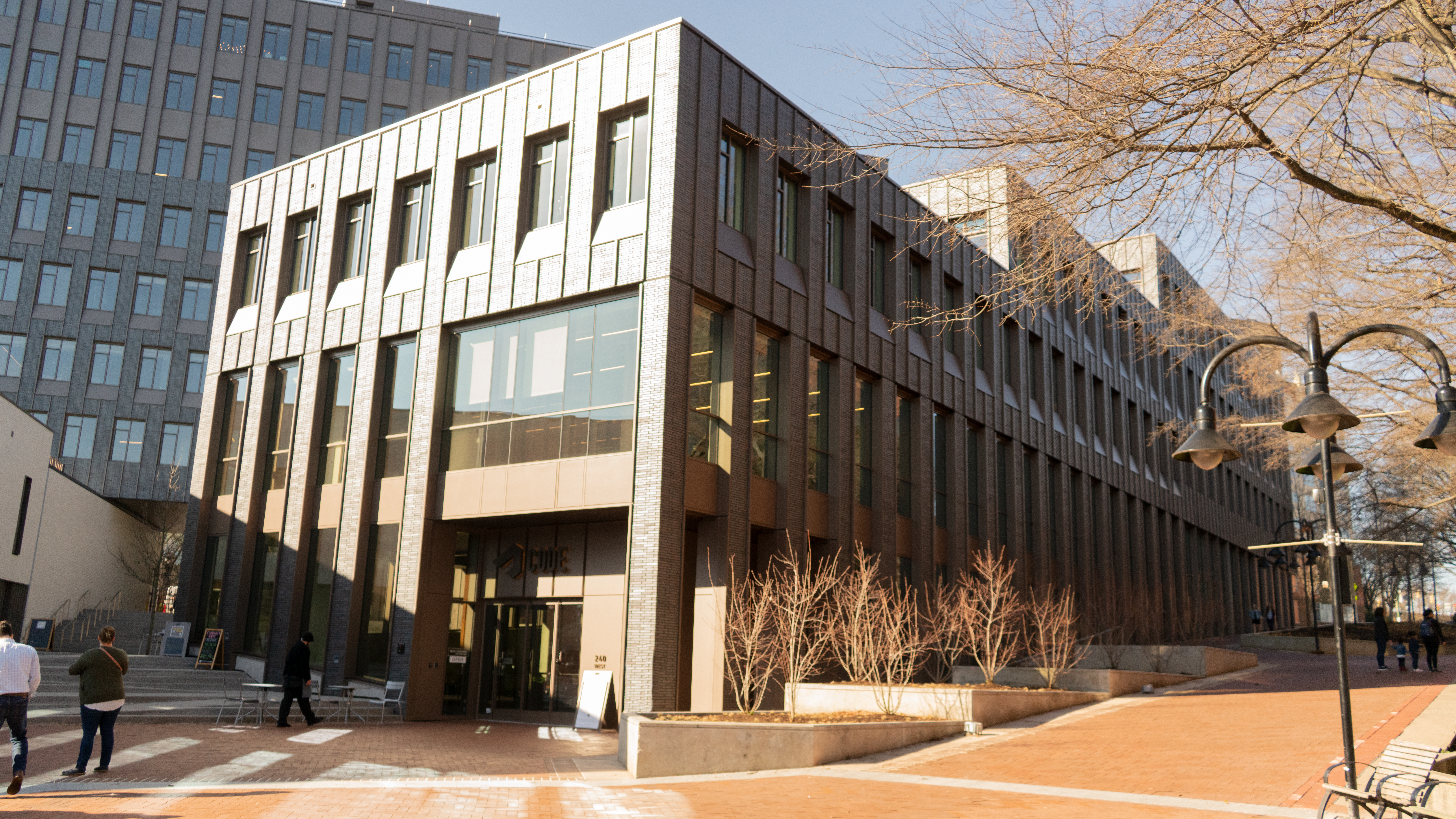 Designing inspiring collaborative spaces for our clients is what we do. But it's not every day we get to see the final results as a team! A group of Creativians had the opportunity to tour the new state-of-the-art CODE Building by Wolf Ackerman Design in Charlottesville's downtown mall to get an up-close look at one of the most cutting edge buildings in the state, and one of the coolest projects we've worked on! Here are a few takeaways from our experience:
Dedication to Beauty 
As soon as you walk into the lobby (which is open to the public), you're greeted with eye candy. Modern wood panels, inviting leather chairs, and brutalist elements all converge into one heck of an introduction. But the CODE Building as a whole is packed with visual treats to admire. From a stunning water feature in the building's center, to an array of beautiful materials used throughout, every inch of this building is dedicated to a gorgeous, curated experience.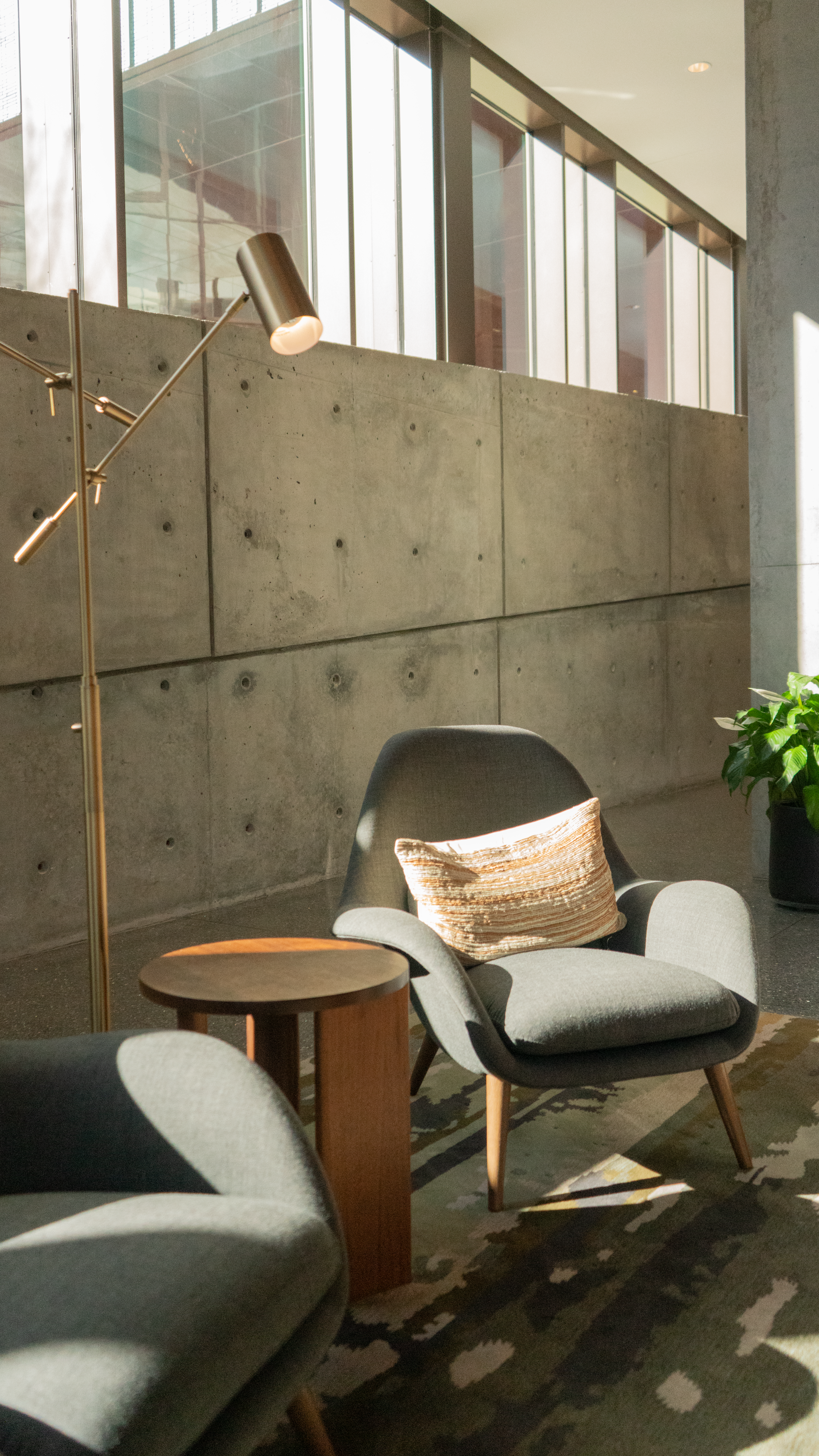 A standout installation is the acoustic feature at the center of CODE's co-working space. What's unique about this piece is its ability to filter sound and light in a beautiful way. The light from above scatters through to the floor to create an effect much like being under a tree on a sunny day. It succeeds in making an open, collaborative area feel intimate and comfortable. 
It's not just the inside that leaves an impression. The CODE Building also hosts multiple terraces that provide natural respite for tenants. These terraces hold hundreds of plant species native to Virginia, making for a garden that delivers not only a lovely view of Charlottesville, but a palpable sense of place. This green space is furnished with modern Fermob Surprising Chairs for group lunches and a circle of Sublime Hi Adirondack chairs you just want to slide into. Perfect accompaniments for a space you don't want to leave!
Acoustics Make All the Difference
What a person can see in a room is only half the story. What they can hear (or not hear) sets the tone and informs how a person feels in a space. That is what makes the CODE Building so successful.
All around the space, there are countless surfaces made of glass, concrete, and other sound-reflecting materials, but you wouldn't know it by the way it sounds. From privacy booths, to conference rooms, to open gathering spaces, the co-working section of the CODE Building is designed for optimal sound quality. It's clear that acoustics were not an afterthought, and were in fact a prime focus when planning the space. 
From mitigating noisy distractions to measurably improving work performance, good sound quality is a facet of space planning that doesn't always get the consideration it should.  This is often a missed opportunity to make a working or learning environment truly shine. Creative strives to make acoustic planning simple and geared toward our client's needs. We offer a range of options, from subtle sound adjustments to eye-catching acoustic works of art!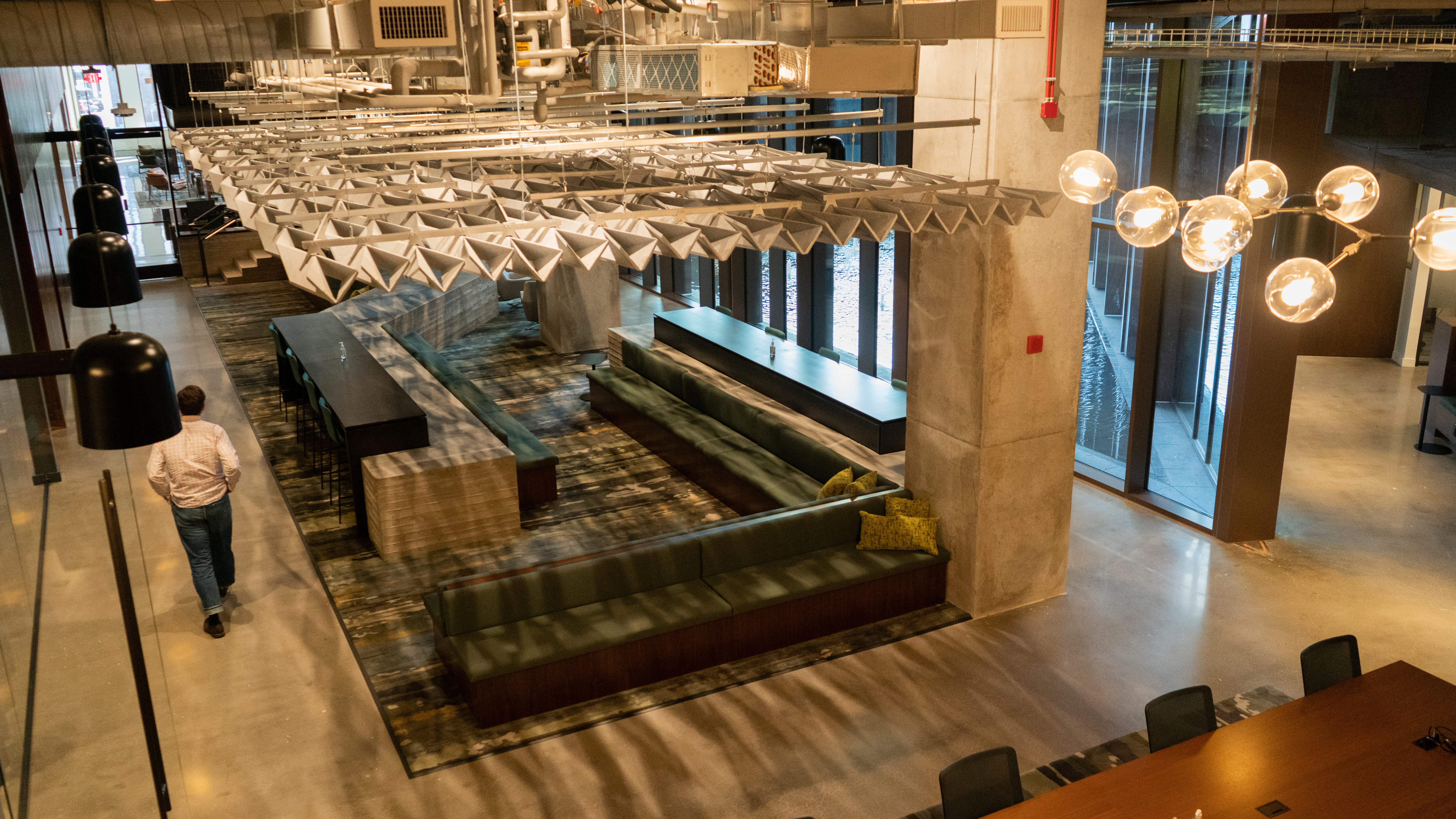 Variety in Choices
In order to break the monotony of a workday, many people prefer to switch up their work stations. That's why everything about the CODE Building's co-working space is tailored to how you want to work. If you want to hunker down, there are cozy spaces designed for singular focus and productivity. If you need a space to gather, large tables and seating areas accommodate groups easily while maintaining a calm, focused environment. If you need a break, a café upstairs provides a social environment to get away from a high-focus session. 
Having a variety of spaces for solo work is important, but you also need quick, effective audiovisual communication tools to complete a co-working space. Creative integrated collaboration tools, including Mersive Solstice wireless screen sharing, into meeting spaces, conference rooms, and open team spaces to make seamless teamwork available whenever you need it.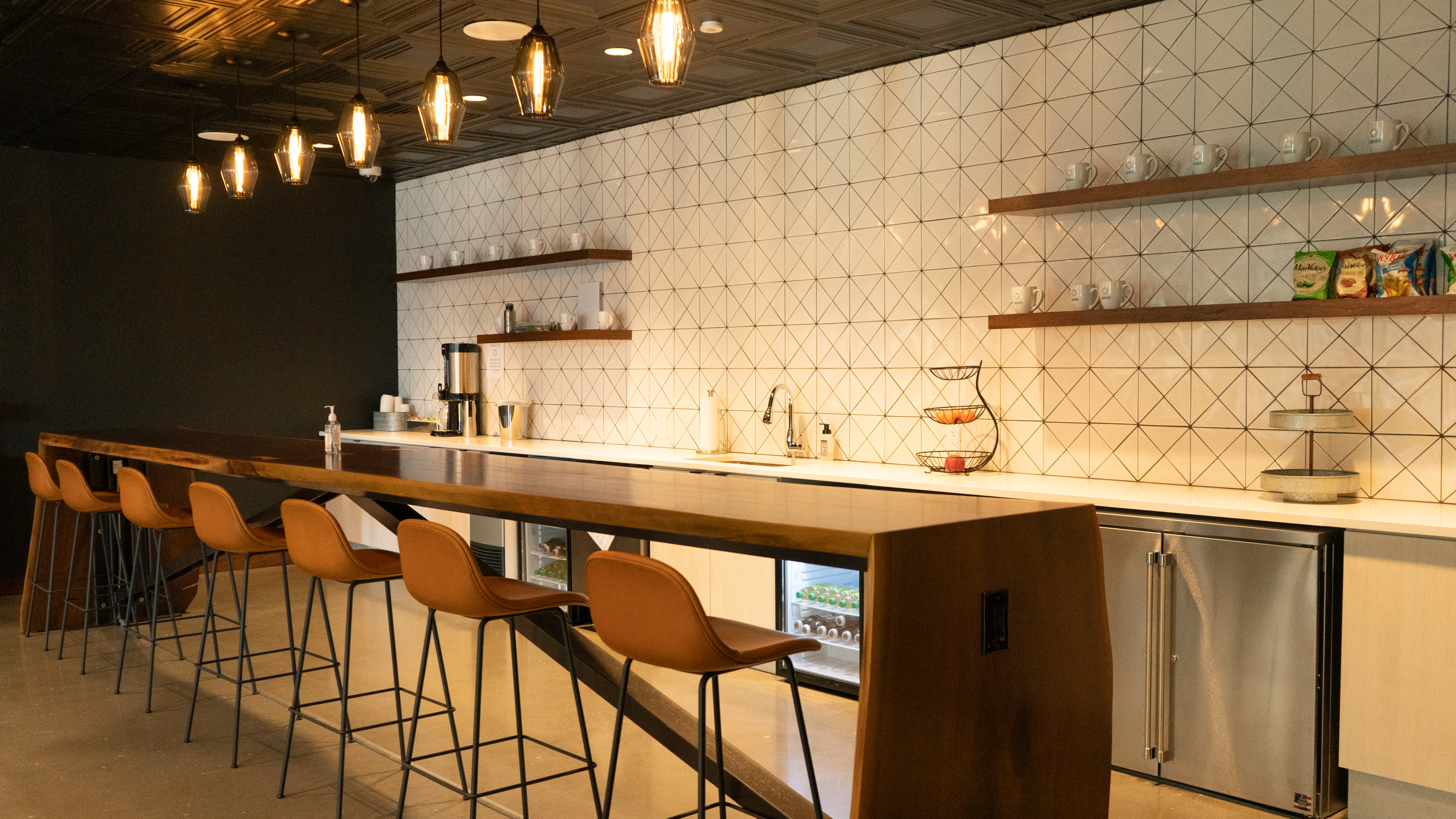 Technology is in the CODE Building's DNA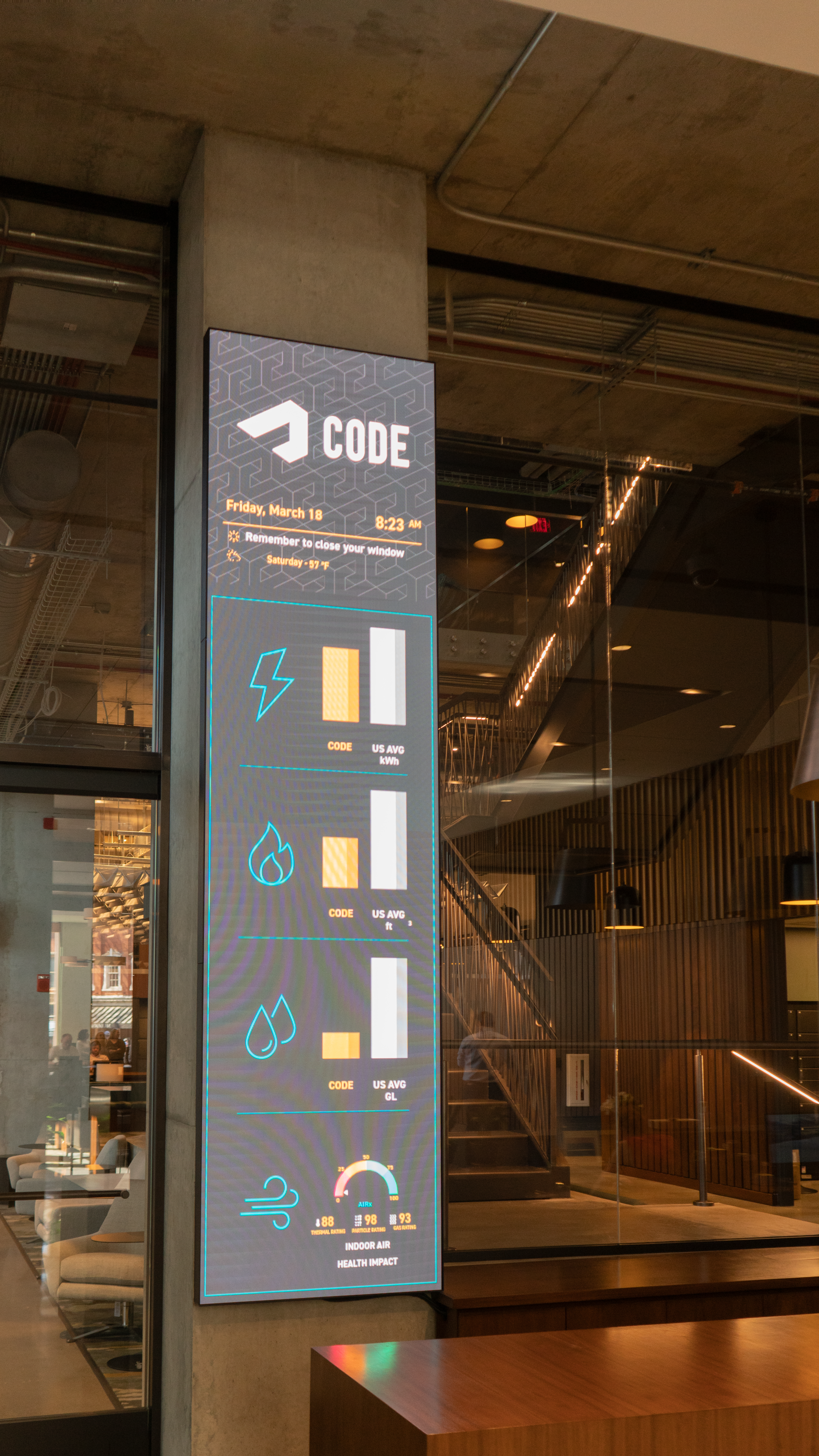 Technology is integrated throughout the building, from video conferencing tools to building-wide digital signage and paging capabilities. The new auditorium is especially impressive, with a 16 foot wide, theater-quality 4K video wall for multi-purpose events such as film screening, lectures and presentations. The auditorium is also outfitted with high-quality surround sound and includes cameras to capture lectures or provide video conferencing. 
The CODE team also built with green energy in mind. In fact, the CODE Building is designed to be LEED Gold + Certified, and in some instances goes beyond LEED standards. A column-mounted, 12 foot high LED wall in the lobby displays environmental systems information in real time. Other features include a high-efficiency HVAC system, environmental controls designed to provide natural ventilation, and rainwater collection used to hydrate the terraces above.
The Experience
All of us got something from touring the CODE Building. For those of us that contributed to the project, it was a well-deserved victory lap. For those of us seeing it for the first time, it was inspiring to see such a complex project culminate into a unique commercial space and community hub.